How to Ride for Students
The iRide program provides Arlington students with information and tools to help make riding the bus, Metrorail, biking and walking around Arlington easier. Look for the iRide kiosk at your school that includes an iRide Rack Card (PDF), map and information for the buses that serve the surrounding area.
Student Discount
Arlington elementary, middle and high school students can ride the ART bus for free starting August 29, 2022 with a Student iRide SmarTrip card.
The Student iRide SmarTrip card lets Arlington K-12 students ride the ART bus for for free, and if value is added, also works on Metrobus, Metrorail and other regional bus systems for the regular fare. It works just like a regular SmarTrip card and fare is automatically deducted when the card is tapped on the fare box. Students can get the card at any Commuter Store or through the School Transportation Coordinator (STC) located onsite at their middle school or high school. You must have a valid Arlington County student ID and fill out the registration form (PDF) at the time of purchase.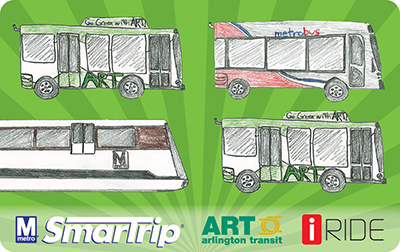 Getting to School
Find out how to get to your school using transit, biking or walking. Click on the neighborhood map link to see which bus stops, Metro stops and Capital Bikeshare stations are close to your destination. The maps also provide arrival times for when the next bus or train will arrive at your stop.
Middle Schools
Gunston – Car-Free Transportation Options
Bus Service to Gunston: ART 87, Metrobus 10AE, 10B
Jefferson – Car-Free Transportation Options
Bus Service to Thomas Jefferson: ART 41, Metrobus 10B, 23ABT
Kenmore – Car-Free Transportation Options
Bus Service to Kenmore: ART 75, Metrobus 4AB, 25B
Swanson – Car-Free Transportation Options
Bus Service to Swanson: ART 53 (53W trips only), Metrobus 2A
Williamsburg – Car-Free Transportation Options
Bus Service to Williamsburg: ART 53
High Schools
Arlington Career Center – Car-Free Transportation Options
Bus Service to Career Center: ART 45, 77 Metrobus 10B, all Arlington 16-line Metrobuses
Arlington Community – Car-Free Transportation Options
Bus Service to Arlington Community: ART 45, 77 Metrobus 10B, all Arlington 16-line Metrobuses
Bishop O'Connell High School – Car-Free Transportation Options
Bus Service to Bishop O'Connell: ART 52, 53
H-B Woodlawn – Car-Free Transportation Options
Bus Service to H-B: ART 43, 45, 55, 61 Metrobus 4B, 10AE, 38B
Langston – Car-Free Transportation Options
Bus Service to Langston: ART 55 Metrobus 3Y
Wakefield – Car-Free Transportation Options
Bus Service to Wakefield: ART 75
Washington-Liberty – Car-Free Transportation Options
Bus Service to W-L: ART 52, 53, 62 Metrobus 38B
Yorktown – Car-Free Transportation Options
Bus Service to Yorktown: ART 52, 53
Other Secondary Programs
New Directions – Car-Free Transportation Options
Bus Service to New Directions: ART 41, 62, 77 Metrobus 38B
Stratford – Car-Free Transportation Options
Bus service to Stratford: ART 53