Washington Boulevard Bus Stop Improvements Starting this Spring
May 02, 2018
Arlington is planning bus stop improvements along Washington Boulevard, between Sycamore Street in East Falls Church and the intersection of Washington Boulevard and Route 50 in Lyon Park. Construction is planned to start this spring and continue through summer 2019.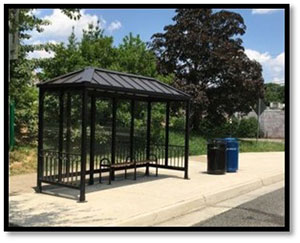 The improvements will add new amenities at stops with high ridership and make all bus stops compliant with the Americans with Disabilities Act (ADA), while also closing some underused stops. New amenities – including benches or lean bars, new shelters, and additional trash and recycle bins – will vary based on each stop's ridership and existing physical conditions.
View planned improvements:
Handout listing Washington Boulevard bus stop improvements by civic association
Interactive map showing changes and improvements planned at each bus stop location
Additional materials, including information about planned bus stop improvements along Lee Highway, are available on the project page. Construction at Lee Highway bus stops is anticipated to begin in late summer 2018.
About this project
The Lee Highway and Washington Boulevard Bus Stop Consolidation and Accessibility Improvements Project is one of the projects funded by the I-66 Commuter Choice Program, which invests toll revenue in projects that improve travel along the I-66 corridor.
The goals of the Lee Highway and Washington Boulevard project are to improve the safety and quality of bus stops, bring all stops into ADA compliance, and increase the efficiency of bus service by consolidating underused or closely spaced bus stops.
Visit the project page to learn more.
---
About User Comments
The User Comments form is a way to share your thoughts with other visitors to this page. If you have a comment or question for Arlington Transit staff, please contact Arlington Transit.
Comments posted here will be published on this page after approval. A valid email address is required to post a comment. Your email address will not be displayed, or used for any purpose except to contact you about your comment or question.