The ART of Getting Around
October 25, 2017
Riding Arlington Transit – ART buses is a great way to get around Arlington car free. People who live, work and play in Arlington can take the green and white buses to restaurants, shops, parks and more. ART also connects to Metrorail and Metrobus, making it easy to get to the entire DC metro region. Let ART do the driving and take you to work, for a night out on the town and to activities on the weekend.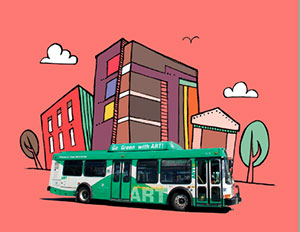 New to Arlington or riding ART? Here are some handy tools you can use to help you figure out how to get around Arlington using ART!
ArlingtonTransit.com – ART's website has route and schedule information for all of ART's 17 bus routes
ART Alerts – Sign-up to receive alerts about ART bus service via text message or email. You can receive info about detours and delays for the specific routes that you use.
ART RealTime – Find out when the next ART bus will arrive at your stop.
CarFreeAtoZ.com – Unsure how to get from one place to the other? This tool helps you plan your trip and shows you the best transit options to take.
CarFreeNearMe.com – Find the closest ART bus stop to you, no matter where you are.
Now that you know how to get to your destination, make sure you have a SmarTrip card to pay for your bus fare. This rechargeable fare card works on ART, Metrobus, Metrorail and other regional bus systems.
---
About User Comments
The User Comments form is a way to share your thoughts with other visitors to this page. If you have a comment or question for Arlington Transit staff, please contact Arlington Transit.
Comments posted here will be published on this page after approval. A valid email address is required to post a comment. Your email address will not be displayed, or used for any purpose except to contact you about your comment or question.