Bus Stop Relocations at Ballston Metro Station Dec. 18 - 24
December 08, 2022
From Sunday, December 18 to Saturday, December 24, Bus Bay H at Ballston Metro Station will be closed to accommodate nearby construction work.
Metrobus 23ABT service will relocate to Bus Bay J on N Stafford Street.
ART 72 service will relocate to Bus Bay A on N Stuart Street.
Passengers should be aware of directional signage at the Ballston Metro Station bus terminal.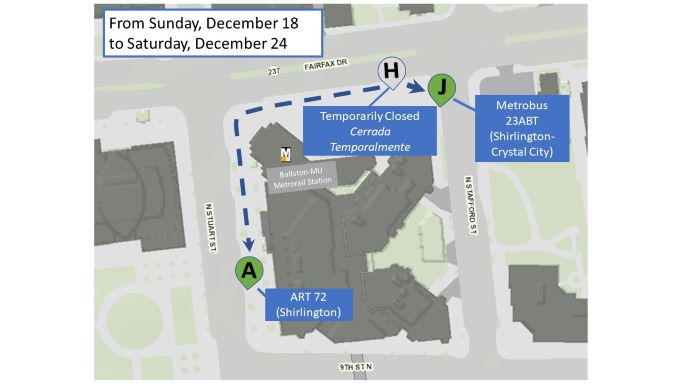 ---
About User Comments
The User Comments form is a way to share your thoughts with other visitors to this page. If you have a comment or question for Arlington Transit staff, please contact Arlington Transit.
Comments posted here will be published on this page after approval. A valid email address is required to post a comment. Your email address will not be displayed, or used for any purpose except to contact you about your comment or question.