Taking ART to Get Your Vaccine
March 31, 2021
As more people become eligible to receive the COVID-19 vaccination, it's time to start thinking about how you'll get to the vaccination site when it's your turn to get a vaccine shot. Taking transit to get your vaccine appointment eliminates the hassle of having to drive and find parking. Follow the steps below and use the Moovit Transit Trip Planner found on the homepage of the Arlington Transit website to plan your car-free trip to get your vaccine.
Step 1. See if You're Eligible
The COVID-19 vaccine is being rolled out in phases determined by the state. See which groups are currently eligible for the vaccine.
Step 2. Find a Vaccination Site and Make an Appointment
Vaccines are being distributed by health-care providers, hospital clinics, pharmacies, urgent care centers, and community vaccination sites. You must make an appointment to get the vaccine, even when you're eligible to get it.
Step 3. Plan Your Trip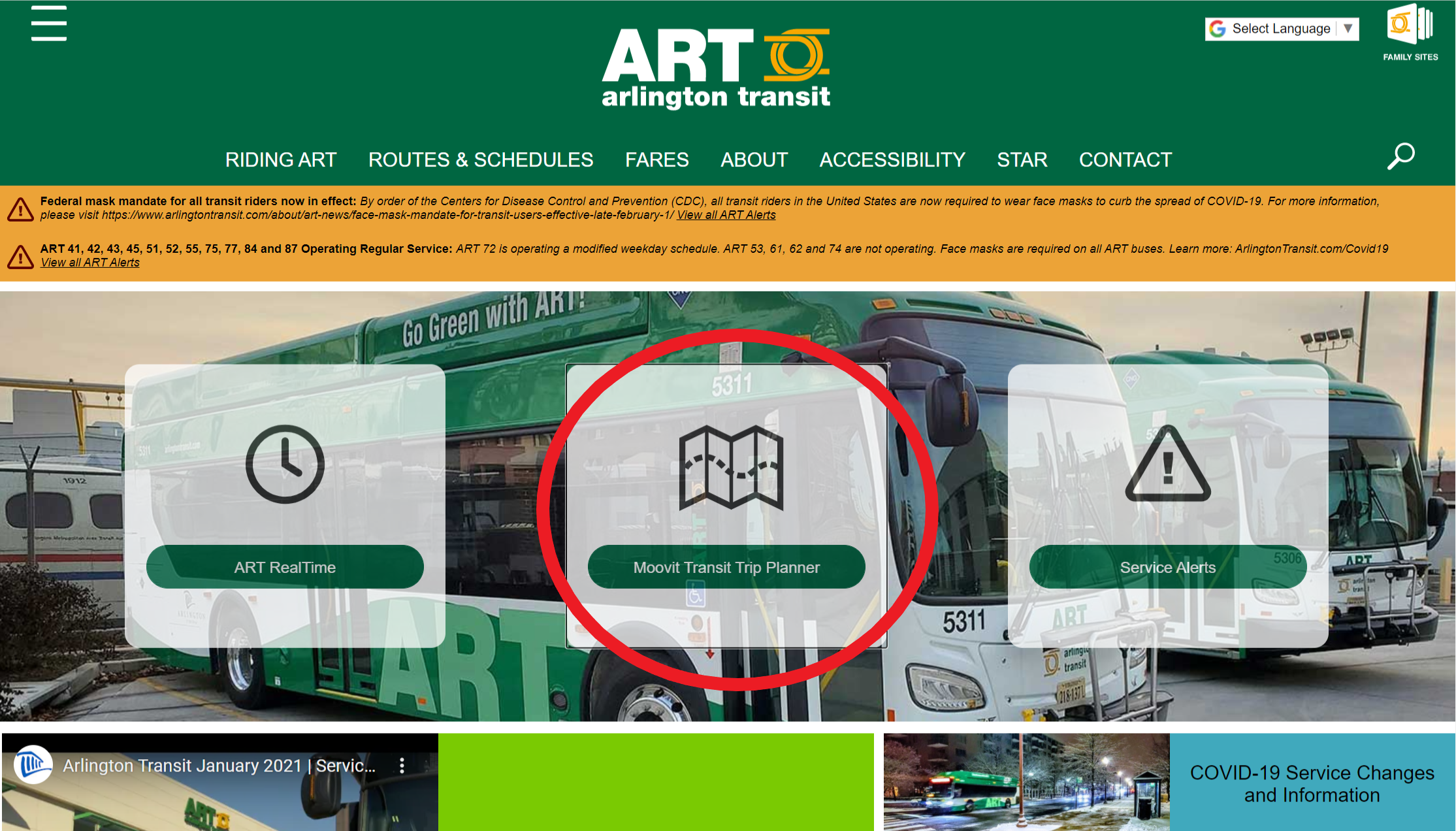 Use the Moovit Transit Trip Planner found on the homepage of the Arlington Transit website (circled in image) to find out which ART bus route can take you there. The trip planner also provides Metrobus and Metrorail information.
Enter your starting address and destination and the trip planner will provide transit options for getting you to the vaccination site. It will include information about how long the trip will take and when the next bus or train will arrive. Schedule information is also available if you want to leave at a later time.
You can plan your trip ahead of time by selecting the desired arrival time on a specific date to get the most accurate travel information. The trip planner will also include walking directions to the nearest bus stop or Metrorail station.
Step 4. Keep Taking Safety Precautions
Receiving the COVID-19 vaccine is just one part of the effort to reduce the spread of the virus. Even after you're vaccinated, you will still need to practice these prevention steps:
Wear a face mask or face covering (required on all public transit)
Keep at least 6 feet of distance from others
Wash your hands frequently
Stay home if you're sick
---
About User Comments
The User Comments form is a way to share your thoughts with other visitors to this page. If you have a comment or question for Arlington Transit staff, please contact Arlington Transit.
Comments posted here will be published on this page after approval. A valid email address is required to post a comment. Your email address will not be displayed, or used for any purpose except to contact you about your comment or question.