New ART Light Maintenance Facility Open
September 26, 2017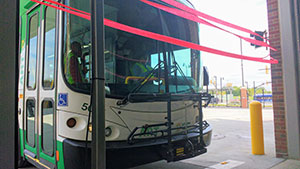 On Tuesday, September 26, Arlington County celebrated the completion of the new Arlington Transit (ART) Light Maintenance Facility that's located at 3201 S. Eads Street. A special bus-drive-through ribbon cutting was done. The new two-story, state-of-the-art facility includes a light-duty maintenance bay, bus wash and a compressed natural gas fueling station.
ART is growing and provided more than 3.4 million rides on 17 bus routes over the past year. Fleet and service expansion is planned for the next 10 years. The facility provides crucial storage space for 25 of 65 buses, fueling, maintenance and wash services for the entire ART fleet.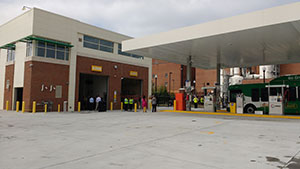 "Finding space for County services is one of the biggest challenges facing our growing community," said Arlington County Board Chair Jay Fisette. "The opening of this multi-purpose facility represents our investment in the next generation of growth for our bus system – and represents one of our success stories."
Washing and fueling services for ART buses had been contracted from an adjacent Washington Metropolitan Area Transit Authority (WMATA) facility at a higher cost and with restricted hours. The new facility now provides more flexibility for how ART fuels and maintains its vehicles.
---
About User Comments
The User Comments form is a way to share your thoughts with other visitors to this page. If you have a comment or question for Arlington Transit staff, please contact Arlington Transit.
Comments posted here will be published on this page after approval. A valid email address is required to post a comment. Your email address will not be displayed, or used for any purpose except to contact you about your comment or question.