The Accessibility of ART
November 29, 2017
Arlington Transit – ART strives to make riding the bus easy for everybody.
All ART buses:
Are fully accessible with wheelchair ramps and the ability to lower or kneel
Have two wheelchair securement areas, and priority seating for senior citizens and people with disabilities, near the front.
Announce all bus stops audibly and visually using an interior display and automated stop announcement system.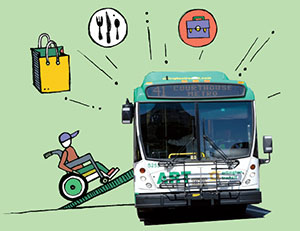 Discounted fares for senior citizens and people with disabilities are available. All ART bus rides are free with a MetroAccess photo ID card. With a Senior SmarTrip card, senior citizens can ride ART for $1.00 (half-price).
Arlington County also offers several programs to help senior citizens and people with disabilities get around, including:
The Senior Transportation Brochure (PDF) has information about additional programs offered in Arlington.
Riding ART is an easy way to get around Arlington without a car and the hassle of parking.
Not sure which ART route to take? Use these handy tools to help you plan a trip, find the nearest bus stop and tell you when the next bus will arrive. Make sure you have a SmarTrip card to pay for your fare and to receive free bus-to-bus transfers within 2 hours of use.
---
About User Comments
The User Comments form is a way to share your thoughts with other visitors to this page. If you have a comment or question for Arlington Transit staff, please contact Arlington Transit.
Comments posted here will be published on this page after approval. A valid email address is required to post a comment. Your email address will not be displayed, or used for any purpose except to contact you about your comment or question.