Programs
APS Student Fare-Less Pilot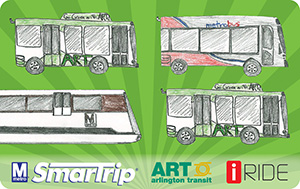 Arlington Transit is conducting a pilot program with APS high school students to determine how ART Bus can assist students who live beyond the reach of APS school buses to get to school safely and on time. APS assisted Arlington Transit in identifying 2,400 students participating in this pilot program. These middle and high school students live in an area not served by APS yellow school buses, attend Immersion or Montessori schools outside of their home school zone, or at the further edges of a walk-zone.
Students participating in the pilot program will receive a pre-registered iRide SmarTrip card which will automatically reload with $10 a week during the school year, through June 2023. (This subsidy does not include summer break and spring break.) These cards will give them free access to ART Bus to help them get to school.
Adopt-a-Stop
Arlington Transit's Adopt-a-Stop program relies upon community partnerships to help maintain bus stops throughout the County. Individuals or groups can apply to adopt an ART bus stop for a commitment of one year. The adopter pledges to maintain their adopted bus stop and keep it clean. In return, adopters will be publicly recognized with a sign at the adopted bus stop and recognition on ART's web site.
iRide for Students
The iRide program provides information and resources to make it easier for Arlington County students to get around using bus, Metrorail, biking and walking. The program also includes the Student SmarTrip card, which provides Arlington elementary, middle and high school students a discounted fare when they ride the ART bus.
Art on the ART Bus
Art on the ART Bus is a mobile gallery on one of the ART buses that features original works of art. The bus rotates throughout the different ART routes so that everyone can enjoy the artwork. This dynamic connection between public transit and art makes everyone's commute more colorful and fun.
Moving Words
Moving Words is a program that makes poetry a part of daily life for commuters riding ART. The poems of ten Arlington Public Schools students and six metro-area adult poets will be displayed on ART buses throughout the year for bus riders to read and enjoy.
Pike Ride
Pike Ride is combined ART and Metrobus service on Columbia Pike and in the surrounding neighborhoods. The two services are coordinated to provide frequent, convenient service along the Pike.