Free ART Bus Rides on September 20
September 07, 2018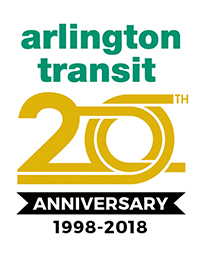 In celebration of ART's 20th Anniversary, we're letting everyone ride ART for free on Thursday, September 20! It's our way of saying thank you to our loyal customers for riding ART and also an invitation for those who have never been on ART to give it a try.
In addition to ART's Free Ride Day, there are several other events to celebrate the week of September 17 - 21.
Try Transit Week is September 17 - 21. Participants who pledge to try transit during Try Transit Week are automatically entered for a chance to win a year of free transit service from a participating Virginia transit operator, as well as, a pair of round-trip tickets for Amtrak's Northeast Regional train. There are also several local prizes to win.
Car Free Day will be celebrated on both Friday, September 21 and Saturday, September 22 this year in the Washington, DC metropolitan area. Pledge to go car free on either day or both and you'll be eligible to win some great prizes.
September is the month to celebrate going car free with ART's 20th Anniversary, Try Transit Week and Car Free Day!
---
About User Comments
The User Comments form is a way to share your thoughts with other visitors to this page. If you have a comment or question for Arlington Transit staff, please contact Arlington Transit.
Comments posted here will be published on this page after approval. A valid email address is required to post a comment. Your email address will not be displayed, or used for any purpose except to contact you about your comment or question.