Weekend Adventures with ART – Nov. 30-Dec. 1
November 26, 2019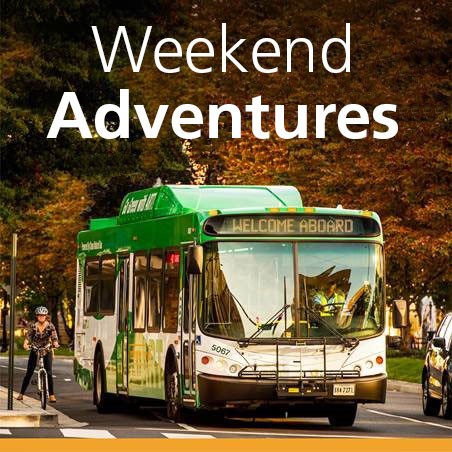 Looking to get out of the house and do some fun activities Thanksgiving weekend? Let the ART bus be your ride! ART 41, 42, 45, 51, 55, 77 and 87 all provide weekend service. Here are some weekend events taking place and the ART routes that can take you there:
Small Business Saturday at the Village of Shirlington – Nov. 30 at the Village of Shirlington
Shop local at some of the small businesses that are located at the Village of Shirlington (and all-around Arlington!). This is a great way to support smaller shops during the holidays.
Getting there: Take ART 77 and 87
Courthouse Farmers Market – Nov. 30 at N. 14th St + N. Courthouse Rd.
The farmers market features vendors that sell produce, meats and dairy products. The market is open from 8 am – noon.
Getting there: Take ART 41, 45 and 77
Festival of the Trees – Now – Dec. 24 at the Fashion Centre at Pentagon City
A variety of Christmas trees decorated by local nonprofits will be on display in the Garden Plaza to celebrate the season. Guests can meet with organization reps, drink hot chocolate, create crafts and enjoy live music.
Getting there: Take ART 42 and 87
---
About User Comments
The User Comments form is a way to share your thoughts with other visitors to this page. If you have a comment or question for Arlington Transit staff, please contact Arlington Transit.
Comments posted here will be published on this page after approval. A valid email address is required to post a comment. Your email address will not be displayed, or used for any purpose except to contact you about your comment or question.