Shirlington Bus Station
Shirlington Bus Station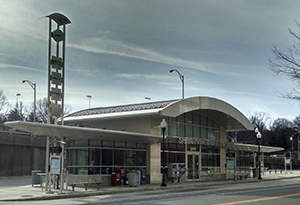 Shirlington Bus Station is Arlington's only enclosed public bus station and is the principal transfer point for Metrobus and ART bus service in South Arlington. More than 2000 commuters use the station each day. The station houses a Commuter Store and includes an indoor waiting area with customer seating and a partially covered outdoor plaza. The bus stops incorporate innovative features for riders with visual disabilities, including first-in-the-region audible schedule devices.
Shirlington Bus Station
2975 S. Quincy St., Arlington, VA 22206, near the intersection of S. Randolph St. and 31st St., next to Shirley Hwy. (I-395).
Station Lobby Hours
Mon.-Sat., 5:30 a.m.-12:00 midnight. Closed Sundays and holidays
Bus Service Hours
Mon.-Fri., 5 a.m.-1 a.m.
Sat., 6 a.m.-3:30 a.m.
Sun., 6 a.m.-midnight
Bus Bay Diagram (PDF, 442 KB Adobe Reader Required)
Commuter Store Hours
Mon-Fri, 10 a.m.-7 p.m. (closed 1:30-2 p.m.)
Commuter Store Phone
Voice: 703-820-4981, Fax: 703-820-4984, TDD: 711