Ride ART the Smart Way
November 02, 2017
The SmarTrip card makes it easy to get around using transit. The rechargeable fare card works on ART, Metrobus, Metrorail and other regional bus systems. There are several different types of SmarTrip cards to choose from. Some cards automatically provide discounts for certain groups. Which SmarTrip card is right for you? Find out below: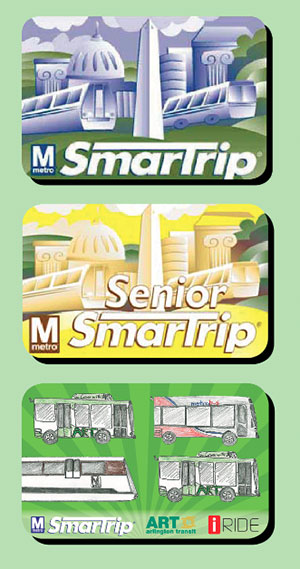 The SmarTrip card makes it easy to ride ART for the $2.00 regular fare. Just tap the card on the fare box when you board the bus. The card also works on Metrobus and Metrorail.
The Senior SmarTrip card is for seniors age 65 and older and automatically gives them the $1.00 Senior fare on ART. The card also provides a discount on Metrobus and Metrorail.
The iRide Student SmarTrip card is for Arlington students, K-12, and lets them ride ART for the $1.00 Student fare. The card also works on Metrobus and Metrorail for the regular fare. Learn more at arlingtontransit.com/iride.
All SmarTrip cards allow free bus-to-bus transfers within 2 hours of use. Cards can be purchased at the Commuter Stores located at the Ballston Metro, Rosslyn Metro, Crystal City Metro and Shirlington Bus Station. For the Senior and Student cards, the user must be present at the time of purchase and show ID.
Now that you have your SmarTrip card, use these handy tools to help you figure out how to get around Arlington using ART!
---
About User Comments
The User Comments form is a way to share your thoughts with other visitors to this page. If you have a comment or question for Arlington Transit staff, please contact Arlington Transit.
Comments posted here will be published on this page after approval. A valid email address is required to post a comment. Your email address will not be displayed, or used for any purpose except to contact you about your comment or question.