See the Art on the ART Bus Exhibit on May 12 at the Walk for the Animals
May 10, 2018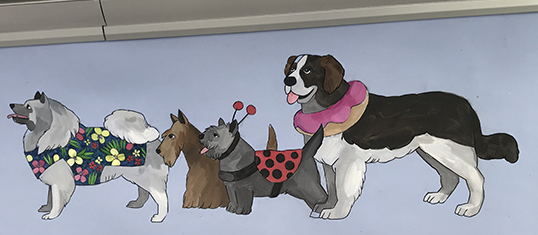 See the latest Art on the ART Bus exhibit on Saturday, May 12, at the Animal Welfare League of Arlington's annual Walk for the Animals event!
The exhibit features drawings of playfully costumed dogs in a pet parade. The original artwork was inspired by events hosted by the Animal Welfare League of Arlington. Artist Emily Campbell will be there to talk about her artwork and answer questions. Attendees are encouraged to board the bus and view the colorful images.
This annual event benefits the shelter's animals and supports the services and programs they provide. Learn more and bring your family, friends and pets to this fun event!
ART at Walk for the Animals
Date: Saturday, May 12, 2018
Time: 9 a.m. - 1 p.m.
Address: Animal Welfare League of Arlington, 2650 S. Arlington Mill Drive, Arlington VA
---
About User Comments
The User Comments form is a way to share your thoughts with other visitors to this page. If you have a comment or question for Arlington Transit staff, please contact Arlington Transit.
Comments posted here will be published on this page after approval. A valid email address is required to post a comment. Your email address will not be displayed, or used for any purpose except to contact you about your comment or question.