Metrorail Reliability Has Improved
September 14, 2017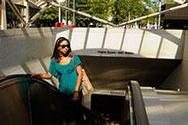 Statement from Arlington County Board Member Christian Dorsey, who represents Arlington on the board of the Washington Metropolitan Area Transit Authority (WMATA):
This week Metro released the latest update on their "Back to Good" program, and the results are very encouraging.
Metro's largest-ever annual capital investment in the system, as well as the recently concluded SafeTrack maintenance program, has produced better on-time performance and fewer unscheduled delays. Metrorail and its riders have also benefitted from the accelerated delivery of new railcars, along with the retirement of older, less reliable ones.
Metrorail riders in Arlington are starting to experience these improvements first-hand:
This summer, during the morning rush, the percent of on-time trips between Ballston and Metro Center increased from 59% to 82%. From Crystal City to Gallery Place, on-time trips increased from 69% to 91%.

And we're seeing similar results during the evening rush – for trips between Metro Center and Ballston, on-time performance increased from 72% to 89%.
I, along with my colleagues on the WMATA board, recognize the importance of a reliable and predictable transit system for our customers, and we are pleased to see the improved performance during the last few months.
Metro still has work to do, but the improvements are real and we expect them to continue in the coming months. If you have stopped using Metrorail for your trips to work, I encourage you to return to the system and see the improvements for yourself.
Broken link to PDF removed April 18, 2019.
---
About User Comments
The User Comments form is a way to share your thoughts with other visitors to this page. If you have a comment or question for Arlington Transit staff, please contact Arlington Transit.
Comments posted here will be published on this page after approval. A valid email address is required to post a comment. Your email address will not be displayed, or used for any purpose except to contact you about your comment or question.