ART 87 Adventures: Route Connects Pentagon Metro to Shirlington
December 09, 2019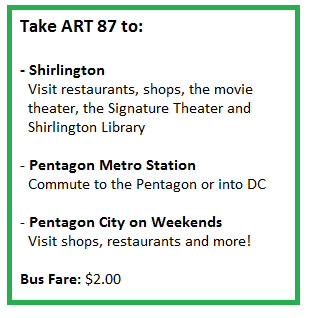 Take ART 87 to commute to the Pentagon Metro station, to Shirlington for dinner or to Pentagon City on the weekends to shop.
During the week, ART 87 runs between the Pentagon Metro Station and the Shirlington Bus Station via Army Navy Drive. The 87 includes several route variations during rush hours (87A, 87X and 87P) to save riders time and get them to their destinations faster. For example, during AM rush hours, the 87X runs non-stop between the Pentagon and Shirlington.
Weekday evenings and on Saturdays, service operates a little past 11:30 pm. So, whether your meeting friends or staying late at the office, you can catch the bus to take you home.
On weekends, service goes to the Pentagon City Metro station instead of the Pentagon Metro. Hop on the bus to take you to shops, restaurants and more at either end of the route!
View the ART 87 schedule and plan your trip today!
New to ART? Here are some tips on how to ride the ART bus.
ART 87: Pentagon Metro -- Army Navy Drive -- Shirlington View Schedule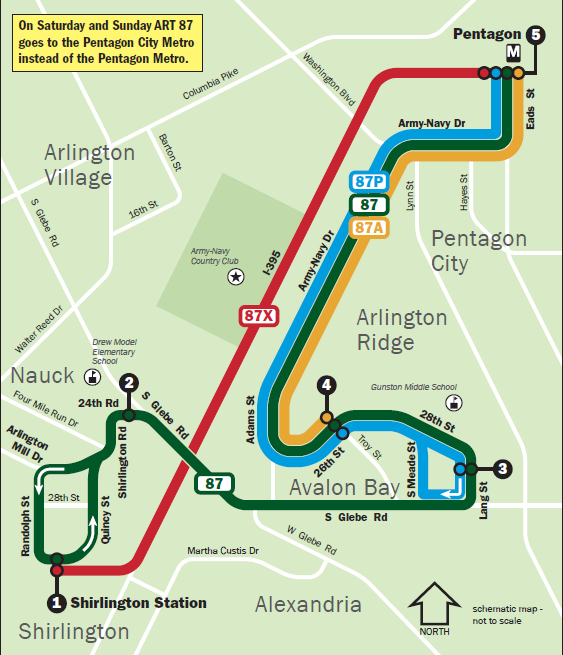 ---
About User Comments
The User Comments form is a way to share your thoughts with other visitors to this page. If you have a comment or question for Arlington Transit staff, please contact Arlington Transit.
Comments posted here will be published on this page after approval. A valid email address is required to post a comment. Your email address will not be displayed, or used for any purpose except to contact you about your comment or question.