How to Ride
Arlington Transit – ART supplements Metrobus with cross-County routes as well as neighborhood connections to Metrorail. If you've never ridden an ART bus before, here are some tips for getting started.
Plan Your Trip
Moovit is a trip planner that can help you decide which ART route to take to your destination.
Once you know which ART route to take, view the route's schedule and route map so you know when and where to catch the bus. Links are available on each route page. CarFreeNearMe can help you locate the bus route closest to you.
Get to the Bus Stop
Use ART RealTime or Transit App to find out when the next ART bus will arrive at your stop.
Getting on the Bus
When the bus arrives, board the bus through the front door.
If you are bringing your bicycle on the bus, signal to the driver that you are going to use the bike rack on the front of the bus and follow these instructions for using the bike rack.
Pay your bus fare at the fare box when you board the bus. You can either pay with a SmarTrip card or cash. Customers using a SmarTrip card get a free transfer between ART and Metrobus within a two-hour time period and a discounted transfer between ART and Metrorail. If using a SmarTrip card, tap it on the red bullseye on the fare box. If paying with cash, insert the exact amount in the proper fare box slot.
Once you've paid, move into the bus and select a seat. Remember that the seats directly behind the driver are reserved for senior citizens and persons with disabilities. You can sit there, but please offer your seat if someone who needs it boards the bus.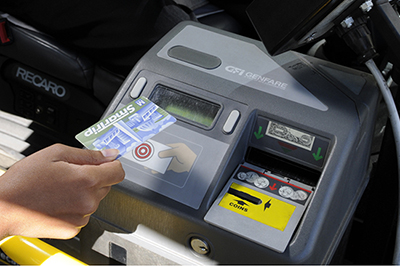 Getting off the Bus
All ART buses either have yellow strips along the sides of the windows or yellow cords across the windows. When you press on the strip or pull the cord, it will let the driver know that you want to get off at the next stop.
Wait for the bus to come to a complete stop, make sure you have all of your belongings and exit the bus through the back door.
If your bike is on the bike rack, exit through the front door and let the driver know that you will be getting your bike. Follow these instructions for using the bike rack.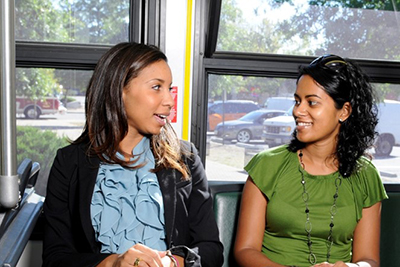 Yellow strip is near the center of the photo.
Courtesy and Safety
We want everyone to have a safe and enjoyable ride when riding ART. Review these courtesy and safety tips for riding the bus.