New Art on the ART Bus Exhibit Features a Colorful Pet Parade!
March 08, 2018
A new Art on the ART Bus Exhibit is up and sure to make riders smile!
Artist Emily Campbell invites you to picture yourself marching in the pet parade of playfully costumed dogs depicted in her colorful artwork. These four-legged pooches will accompany you as you make your way through the bus, and the artist hopes that the spectacle of high-stepping hounds brings to mind the happiness that animals provide. The original artwork in this bus is inspired by events hosted by the Animal Welfare League of Arlington.
Art on the ART Bus is a mobile gallery on one of Arlington County's ART buses. The bus travels on various ART routes. Be sure to look up the next time you get on an ART bus and you may get a colorful surprise!
To enjoy more dogs on parade, join the fun at the Animal Welfare League of Arlington's annual Walk for the Animals, enter your pups in the costume contest at the League's Pints 4 Paws fall festival, or bring your pooch trick-or-treating at the shelter on Halloween. These events are fun and raise awareness for the work that the AWLA does in our community.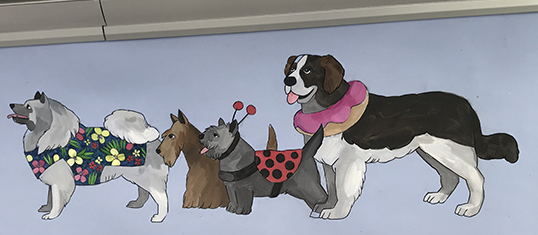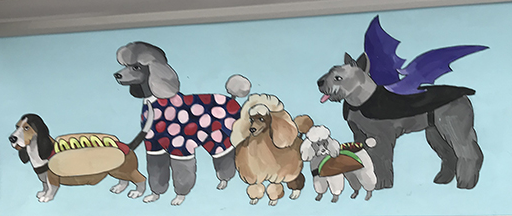 ---
About User Comments
The User Comments form is a way to share your thoughts with other visitors to this page. If you have a comment or question for Arlington Transit staff, please contact Arlington Transit.
Comments posted here will be published on this page after approval. A valid email address is required to post a comment. Your email address will not be displayed, or used for any purpose except to contact you about your comment or question.