SmarTrip®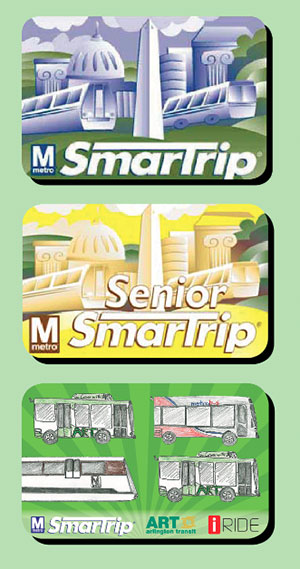 The ART bus fleet is equipped with fareboxes that accept SmarTrip®. Customers simply touch their SmarTrip® card to a target to pay their fare.
Students - Starting August 29, 2022, Arlington K - 12 students using the Student iRide SmarTrip Card ride ART for free.

Seniors and persons with disabilities can purchase a special SmarTrip card that deducts a discounted fare from the value of the card each time it is used. Seniors (65 and older) with a valid, government-issued photo ID with proof of age can buy and use the Senior SmarTrip card. Disabled persons must have a Metro Disability ID card. The Senior SmarTrip Card can be purchased at the Arlington locations of the Commuter Store or Mobile Commuter Store, and at select CVS pharmacies and Giant Food stores. Search for a retail store near you..
Watch a video about how to get and use SmarTrip cards.
Purchase SmarTrip Card Online
Purchase Smartrip Card at CommuterDirect.com
Reload SmarTrip Card Online
Add more stored value to your existing SmarTrip® card at WMATA's website.
FAQs about SmarTrip® on ART
How do I pay my ART fare using SmarTrip?
Touch your SmarTrip® card to the red bullseye on the top of the farebox. It will deduct the correct fare. Or pay your fare with cash (no pennies), tokens or show your pass to the driver.
Can I add value to my SmarTrip® card on the bus?
Yes. Just follow the ADD VALUE instructions on the farebox. Press the button on the bottom left. Touch your SmarTrip card to the bulls-eye target. Add value to your SmarTrip card by inserting bills and coins (no pennies, no ART tokens). Touch your SmarTrip card again to the bulls-eye target to add that value to your account. Touch the SmarTrip card a third time to pay your fare for the ride. You can also add value at any Metrorail station using cash, a credit card or a debit card. Watch this video to see how to add money to your SmarTrip card on the bus.
Where can I buy a SmarTrip® card?
You can buy SmarTrip cards at any of the five Arlington locations of The Commuter Store, at the Mobile Commuter Store, or online from Commuter Direct.com for $2.00, with no fare value. Cards are also available with $8 of stored value (for $10) and with $28 worth of stored value (for $30). SmarTrip cards are also available at Metro sales offices and at retail outlets. For more information, see Metro's SmarTrip page.
How does the SmarTrip® farebox deal with transfers when using a SmarTrip® card?
It's simple and automatic. If you transfer (within two hours) between one ART to another ART, between Metrorail and ART, or between ART and Metrobus or the other local public transit services using the Regional Bus Transfer, the farebox will "read" the transfer information on your card. Every public transit service in the region is using SmarTrip except for MARC and VRE commuter rail services.
Where are the Commuter Stores?
The Commuter Store has four Arlington locations: Ballston, Rosslyn, Crystal City, and Shirlington.
---
For more information about SmarTrip visit Metro's SmarTrip page.