iRide Discount on ART Extended to Elementary School Students
June 16, 2017
Starting June 25, the student discount fare for Arlington Transit -- ART buses will be extended to Arlington County elementary school students. Previously the discount was just for Arlington middle and high school students.
The student discount fare on ART buses is half of the regular fare. On June 25, new ART bus fares will go into effect. Making the regular fare $2.00 and the student discount fare $1.00.
iRide SmarTrip Card
The easiest way for students to receive the discounted fare on ART buses is by using an iRide SmarTrip card. The card is just like a regular SmarTrip card, but automatically gives students the discounted fare when they ride an ART bus. The card works on ART, Metrobus, Metrorail and other transit systems that use SmarTrip cards.
With the card students can: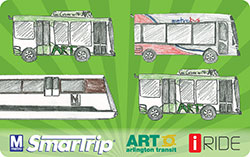 Ride the ART bus for the student discount fare of $1.00 (half-price, new fare starts June 25, 2017)
Ride Metrorail and other bus systems at full fare
Get 2 hours of free bus transfers
Add money to it at Metro stations, Commuter Stores and online
iRide SmarTrip cards can be purchased at any Commuter Store or the Mobile Commuter Store. Students must be present at the time of purchase. The discounted fare can also be paid in cash or with a green iRide token. The student discount fare of $1.00 is only valid on ART buses.
Get your student an iRide SmarTrip card today! They'll be able to use it to ride the bus all summer long!
---
About User Comments
The User Comments form is a way to share your thoughts with other visitors to this page. If you have a comment or question for Arlington Transit staff, please contact Arlington Transit.
Comments posted here will be published on this page after approval. A valid email address is required to post a comment. Your email address will not be displayed, or used for any purpose except to contact you about your comment or question.