Arlington County Honors Transit Equity Day with Fare-Free Rides
February 02, 2023
Arlington is celebrating Transit Equity Day with free rides for all on Arlington Transit (ART) buses on Saturday, Feb. 4, 2023.
The fare-free rides extend to all ART routes throughout the County and includes STAR paratransit service.
Transit Equity Day is celebrated across the United States every Feb. 4, the birthday o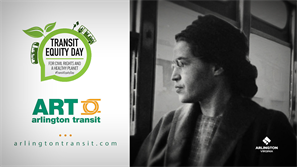 f Rosa Parks. In 1955, the Montgomery, Ala., seamstress and activist refused to give up her seat on a segregated city bus, setting in motion one of the largest social movements in American history, ultimately leading to the U.S. Supreme Court declaring segregation on buses unconstitutional. Parks' refusal to conform with racist policies in a public space, at the risk of personal safety and arrest, is intrinsically tied to the concept of transit equity for all.
County Transportation Bureau Chief Lynn Rivers, who oversees Arlington Transit Operations and Planning, has a unique tie to Parks' legacy—Rivers was the first African American woman to serve as general manager of a transit agency in the state of Alabama, Rosa Parks' home state.
"This weekend I invite everyone to reflect on how far we've come to open doors for more people, and how now the bus is a place for everyone," Rivers said.
Today, under Rivers' leadership, Arlington Transit continues to look for ways to expand equitable service to passengers and connect them to education, opportunities and places that matter to them.
In 2022, Arlington Transit conducted two pilots to make transit more affordable to students and low-income residents, resulting in permanent fare elimination on ART for any student with an iRide SmarTrip card.
This year, the team will conduct engagement to inform the Transit Strategic Plan for the next 10 years of service. The community will be able to provide feedback about their experiences riding ART Bus and suggest improvements.
Watch this special Transit Equity Day message from Lynn Rivers.
---
About User Comments
The User Comments form is a way to share your thoughts with other visitors to this page. If you have a comment or question for Arlington Transit staff, please contact Arlington Transit.
Comments posted here will be published on this page after approval. A valid email address is required to post a comment. Your email address will not be displayed, or used for any purpose except to contact you about your comment or question.