Arlington Transit Low-Income Fare Assistance Pilot
May 16, 2022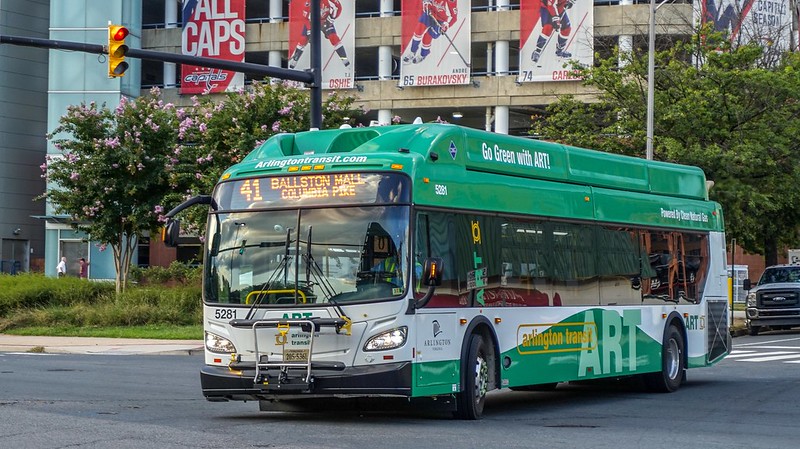 Arlington Transit - ART in conjunction with Arlington County's Department of Human Services (DHS) is sponsoring a free transit fare pilot that provides SmarTrip cards to recipients of Supplemental Nutrition Assistance Program (SNAP) and Temporary Assistance for Needy Families (TANF) programs.
The initial pilot includes 7,200 households identified by DHS that were enrolled in SNAP and TANF prior to March 11, 2022.
Those eligible for the initial pilot should have received a letter that states the head of household for your family can pick up a pre-loaded SmarTrip card at a Commuter Store (see below for Store locations and hours).
How does the Free Transit Fare Pilot work?
To participate in the pilot, the individual listed as the head of household for your family will need to pick up a pre-loaded Smartrip card.
Heads of households must bring the letter received in the mail along with an ID to their selected location and provide the letter to one of the Arlington Transit representatives as proof of eligibility.
We will confirm your name is on our list and the number of cards available to you and your family. Once you have picked up your card(s) you will not be eligible for additional cards.
After you pick up your new SmarTrip card, you are responsible for keeping track of your card. Lost cards will not be replaced.
Only participants who are in SNAP/TANF are eligible to receive their $150 card. The cards are not transferable.
Please stop by one of Arlington's Commuter Store locations to obtain a card.
Ballston Commuter Store
Ballston-MU Metro Plaza (kiosk at top of escalator)
4230 Fairfax Drive
Arlington, VA 22203
Phone: 703-528-3541 Fax: 703-522-4356 TDD: 711
Hours: Mon.-Fri. 7:00 a.m.-7:00 p.m.
Map and Car-Free Transportation Options
Crystal City Commuter Store
Crystal City Shops (across from Dunkin' Donuts)
251 18th Street South
Arlington VA, 22202
Phone: 703-413-4287 Fax: 703-413-4291 TDD: 711
Hours: Mon.-Fri. 7:00 a.m.-7:00 p.m.
Map and Car-Free Transportation Options
Rosslyn Commuter Store
Rosslyn Metro Station Entrance
1810 N. Moore Street
Arlington, VA 22209
Phone: 703-525-1995 Fax: 703-525-0060 TDD: 711
Hours: Mon.-Fri. 7:00 a.m.-7:00 p.m.
Map and Car-Free Transportation Options
Shirlington Commuter Store
2975 S. Quincy Street (at the Shirlington Bus Station, near the intersection of South Randolph Street and 31st Street South, next to I-395)
Arlington, VA 22206
Phone: 703-820-4981 Fax: 703-820-4985 TDD: 711
Hours: Mon.-Fri. 10:00 a.m.-7:00 p.m.; closed 1:30 p.m - 2:30 p.m.
Map and Car-Free Transportation Options
How does the card work?
Cards can be used to commute around the county using the ART bus free of charge, 7 days a week.
The funds apply to ART buses and can be used anywhere SmarTrip cards are used.
A one-time value of $150 will automatically be on the card. After that money is used, the card is yours to use; No more additional funds will be added by the county.
All cards associated with this pilot come pre-loaded and ready to use. Users are encouraged to register their cards with WMATA online to protect the value on your card should it be lost or stolen.
If there is a problem with your card, please call 703-228-RIDE or 1-888-SMARTRIP.
---
About User Comments
The User Comments form is a way to share your thoughts with other visitors to this page. If you have a comment or question for Arlington Transit staff, please contact Arlington Transit.
Comments posted here will be published on this page after approval. A valid email address is required to post a comment. Your email address will not be displayed, or used for any purpose except to contact you about your comment or question.