iRide for Arlington Students
Also see the How to Ride for Students page.
Your ride's here.
You've got places to go. People to see. Things to do. You just need a way to get there.
With ART, Metrobus and Metrorail you've always got a ride. No more begging your parents to take you everywhere. No more bumming a ride off your friends.
And the best part is, riding the bus or the train is actually really easy. Check out the links below to find out everything you need to know.
Student iRide SmarTrip Card
This card makes it easier for Arlington elementary, middle and high school students to get around. ART bus rides are free with the card and it works as a regular SmarTrip card on Metrobus, Metrorail and other regional bus systems. Tap your iRide SmarTrip card on the farebox when boarding the ART bus to ride for free. After April 30, 2023, if a student does not have an iRide SmarTrip card they will be charged $1.00 cash to ride ART. Get your card!
APS Student Fare Free Program
Starting August 29, 2022, Arlington Transit made all travel for Arlington Public School (APS) students on ART buses free with a registered Student iRide SmarTrip card. Students with existing Student iRide SmarTrip cards can automatically participate in the fare free program and do not need to perform any additional requirements. Students can get a Student iRide SmarTrip card from a Transportation Coordinator (TC) located onsite at their school or by visiting a Commuter Store. For additional details, please see Frequently Asked Questions.
Quick links
iRide Rack Card (PDF)
This brochure provides info and tips about how to get around using the bus, Metrorail, biking and walking.
Student iRide SmarTrip Card FAQs
Frequently-asked questions about the Student iRide SmarTrip Card.
Registration Form
Fill out this registration form prior to getting your Student iRide SmarTrip Card. Bring the completed with you to a Commuter Store or give it to your School Transportation Coordinator at your middle or high school.
Car-Free Near Me
See the transit services available near your home, school or anyplace in the D.C. area. This map-based tool shows you the bus stops close to your location, and where the buses go that serve those stops. It also shows rail stations, Capital Bikeshare dock locations, and more.
Online Schedules
Get up-to-date schedules for ART, Metrobus and other local bus routes in Northern Virginia.
Mobile Schedules
Get news and current bus schedules delivered to your web-enabled mobile device, wherever you are.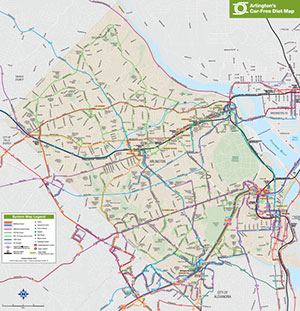 Car-Free Diet Map
(PDF, 4.5 MB, Adobe Reader required)
Map of Arlington showing all of the bus and rail routes and major transfer points.