ART 42, 51, 52 & 72 Ballston Metro Stops Relocating on May 31
May 29, 2020
Starting on Sunday, May 31, the ART 42, 51, 52 and 72 South bus stops at the Ballston Metro station will be relocated to temporary bus bays along N Stuart Street. Service will remain the same. The map below shows where the temporary bus stops will be located.The bus stops are being relocated due to construction for the Ballston Multimodal Improvements Project.
Due to COVID-19, ART is currently operating reduced service and ART 52 and 72 are not operating. Once regular service resumes, ART 52 and 72 will serve the temporary stops at the Ballston Metro station.
Ballston Metro Station -- View PDF of Map
Bus Bays E, F and G along Fairfax Drive will be closed and relocated to temporary bus bays on N Stuart St.
ART 42, 51 and 52 will be relocated to Temporary Bus Stop 1
ART 72 South will be relocated to Temporary Bus Stop 3
ART 75 and ART 72 North will remain at their current bus bays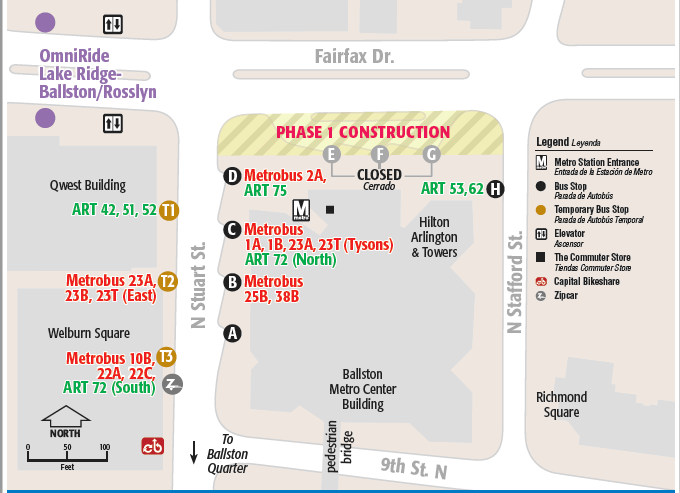 The Ballston Multimodal Improvements Project will improve the safety and operations of the Ballston-MU Metrorail Station plaza and enhance the design of the plaza for all users. Learn more about the project and sign-up to receive updates about construction.
---
About User Comments
The User Comments form is a way to share your thoughts with other visitors to this page. If you have a comment or question for Arlington Transit staff, please contact Arlington Transit.
Comments posted here will be published on this page after approval. A valid email address is required to post a comment. Your email address will not be displayed, or used for any purpose except to contact you about your comment or question.