Celebrating 20 Years of ART!
September 05, 2018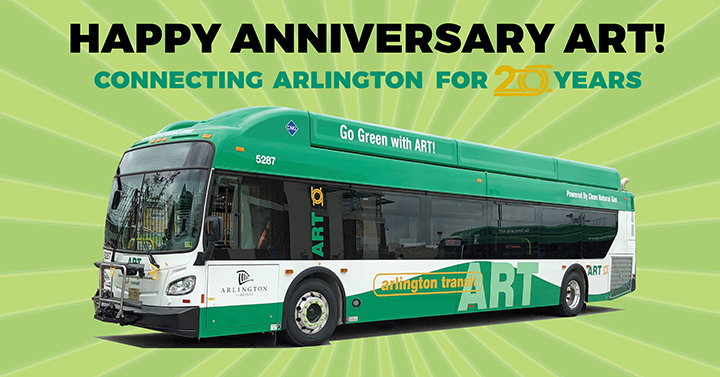 This fall Arlington is celebrating ART's 20th Anniversary of serving the County!
Arlington Transit -- ART began providing bus service in the fall of 1998 with its initial route in Crystal City. ART supplemented the Metrobus system and helped to connect Arlington neighborhoods to Metrorail stations.
Today, ART has grown to 15 routes and carries 3 million passengers annually, becoming an important transportation link between Arlington neighborhoods and regional transit systems such as Metrobus, Metrorail and VRE.
Throughout the year Arlington Transit plans to celebrate our 20th Anniversary with events, rider appreciation days and some fun surprises. Thanks for riding ART!
---
About User Comments
The User Comments form is a way to share your thoughts with other visitors to this page. If you have a comment or question for Arlington Transit staff, please contact Arlington Transit.
Comments posted here will be published on this page after approval. A valid email address is required to post a comment. Your email address will not be displayed, or used for any purpose except to contact you about your comment or question.