ART Real-Time Numbers Changing
April 13, 2022
Beginning the week of April 18th, ART real-time numbers will be changing from five digits to seven digits. The change will occur over the course of several weeks as crews replace the numbers on the bus stop signs and flags. Until the changeover is complete, you will be able to enter either the current five digit or the new seven digit stop number into ART's Real Time information page on the ART website. The new seven-digit regional ID number will match the number in WMATA's Metrobus system. This new system will provide improved real-time information to both ART dispatchers and the public. The change also means that the arrival by phone system will be unavailable until the software for the new system is updated. Examples of current and new stop ID numbers below:
Current 5-Digit Stop ID Number on Bus Stop Sign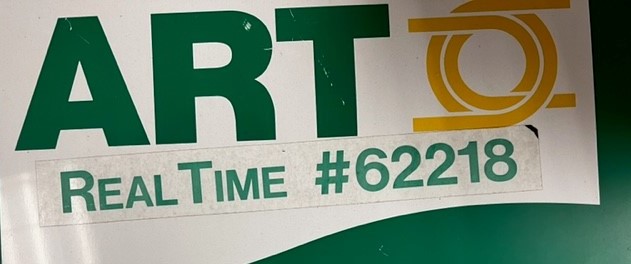 New 7-Digit Stop ID Number on Bus Stop Sign

Current 5-Digit Stop ID number on Bus Stop Flag

New 7-Digit Stop ID Number on Bus Stop Flag

---
About User Comments
The User Comments form is a way to share your thoughts with other visitors to this page. If you have a comment or question for Arlington Transit staff, please contact Arlington Transit.
Comments posted here will be published on this page after approval. A valid email address is required to post a comment. Your email address will not be displayed, or used for any purpose except to contact you about your comment or question.