Weekend Events ART Can Take You To – Nov. 9 – 10
November 07, 2019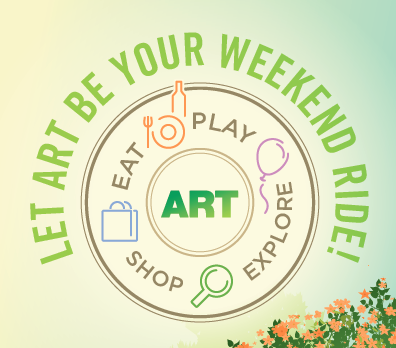 Let ART be your ride to fun events around Arlington this weekend. ART 41, 42, 45, 51, 55, 77 and 87 all provide weekend service. Here are some events taking place this weekend and the ART bus routes that can take you there:
Pet Rescue Alliance Adoption Event – Nov. 9 at Ballston Quarter
Pet Rescue Alliance will be in The Plaza at Ballston Quarter from 10:30 am - 1:30 pm for a dog adoption event! Come by to meet and adopt dogs looking for their forever home!
Getting there: Take ART 41, 42 or 51
Shopping and Dining at Pentagon City
Start your holiday shopping early at the Fashion Centre at Pentagon City. The mall has over 160 stores and restaurants for you to shop and dine at. Take a quick walk (or bike or scoot!) over to Pentagon Row for even more places to check out.
Getting there: Take ART 42 or 87
Pike Park Farmers Market – Nov. 10 at Pike Park (intersection of Columbia Pike & Walter Reed Dr)
The farmers market features vendors that sell produce, meats and dairy products. The market is open from 9 am – 1 pm.
Getting there: Take ART 45
---
About User Comments
The User Comments form is a way to share your thoughts with other visitors to this page. If you have a comment or question for Arlington Transit staff, please contact Arlington Transit.
Comments posted here will be published on this page after approval. A valid email address is required to post a comment. Your email address will not be displayed, or used for any purpose except to contact you about your comment or question.