New ART Bus Safety Policy -- No Turn on Red
November 27, 2017
Starting Monday, December 4, Arlington Transit – ART buses will no longer make right turns at red lights. This safety initiative is being instituted to reduce risk and the possibility of collisions.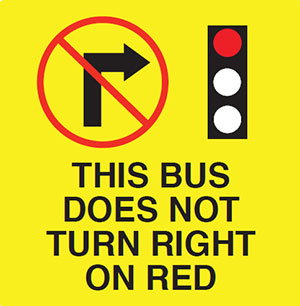 The sticker pictured (left) will be placed on the right rear corner of all ART buses to let car drivers know that the bus will not turn right at red lights. Metrobuses and other local transit providers follow similar policies, so drivers may already be familiar with this practice.
Some safety tips to keep in mind when driving near a bus:
Do not attempt to drive around a bus and then cut back into the traffic lane in front of the bus. This could cause the bus to stop short. Driving around a bus could cause a collision.
Use caution when passing a stopped bus. There is additional pedestrian activity and street crossing around bus stops and stopped buses.
Stay at least 10 feet back from buses idling at a traffic light, stop sign, or bus stop. Buses may roll back slightly when the bus driver releases the brake.
Never turn right in front of a stopped bus. This could cause a collision with the bus, and with passengers boarding or exiting the bus.
---
About User Comments
The User Comments form is a way to share your thoughts with other visitors to this page. If you have a comment or question for Arlington Transit staff, please contact Arlington Transit.
Comments posted here will be published on this page after approval. A valid email address is required to post a comment. Your email address will not be displayed, or used for any purpose except to contact you about your comment or question.