A Night Out is More Fun With ART
November 21, 2017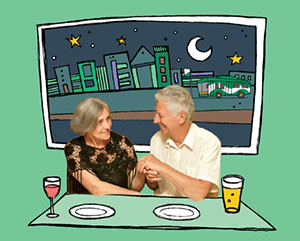 Leave the car at home and let ART take you out on the town! With ART's late night service, you can go out to eat, catch a movie or connect to Metrorail to go into DC. You can have all of the fun without worrying about driving and finding a place to park.
ART routes 41, 43, 45, 55, 75, 77 and 87 provide weekday service past 10 pm. On Saturdays, the routes run past 11 pm and, in most cases, until midnight or later. See below to find out where each route can take you.
Not sure which ART route to take? Use these handy tools to help you plan a trip, find the nearest bus stop and tell you when the next bus will arrive. Make sure you have a SmarTrip card to pay for your fare and to receive free bus-to-bus transfers within 2 hours of use.
ART 41: Columbia Pike -- Ballston – Courthouse
Service Hours: M-F: 5:30 am – 1:10 pm; Sat: 6:10 am – 1:57 am; Sun: 6:55 am – 10:10 pm
Restaurants and bars are all along the ART 41 route. Hop on the bus to checkout some new to you places and grab a bite to eat. Afterwards, you can catch a movie at one of the movie theaters located in Courthouse, Ballston or on Columbia Pike.
ART 43: Courthouse -- Rosslyn -- Crystal City
Service Hours: M-Th: 6:01 am – 10:56 pm; Fri: 6:01 am – 11:56 pm; Sat: 7:00 am – 11:56 pm; Sun: 7:00 am – 9:56 pm
ART 43 is a limited stop route that only has 4 stops, making it a quick way to get between Courthouse, Rosslyn and Crystal City. Check out the nightlife in Crystal City, take the Metro from Rosslyn into DC or go see a movie in Courthouse.
ART 45: Columbia Pike -- DHS/Sequoia – Rosslyn
Service Hours: M-F: 5:40 am – 11:35 pm; Sat: 7:30 am – 12:21 am; Sun: 6:50 am – 8:11 pm
ART 45 connects Columbia Pike to Courthouse and Rosslyn. All three areas have places to dine and meet up with friends. Both Columbia Pike and Courthouse have movie theaters. You can also hop on the Metro in Courthouse or Rosslyn and go into DC for the evening.
ART 55: East Falls Church -- Lee Highway -- Rosslyn
Service Hours: M-F: 5:00 am – 1:49 am; Sat: 5:45 am – 1:12 am; Sun: 6:20 am – 12:17 am
Check out the restaurants and shops along Lee Highway and in Rosslyn. Or take ART 55 to Rosslyn where you can catch the Metro into DC. On a nice night, get off at Rosslyn and walk over the Key Bridge into Georgetown.
ART 75: Shirlington – Wakefield HS – Carlin Springs Rd. – Ballston – Virginia Square
Service Hours: M-F: 5:30 am – 11:03 pm
During the week, take ART 75 to Shirlington to have dinner then watch a movie or see a play at the Signature Theater. The route also travels along Columbia Pike up to Ballston where you can go to the mall, have dinner, and go to the movies.
ART 77: Shirlington -- Lyon Park -- Courthouse
Service Hours: M-F: 6:00 am – 10:54 pm; Sat: 7:00 am – 11:54 pm
ART 77 travels between Shirlington and Courthouse stopping in Clarendon along the way. All three locations have shopping and dining. At Shirlington you can also go to the movies or see a play at the Signature Theater. Courthouse also has a movie theater. Service runs till about midnight on Saturdays.
ART 87: Pentagon Metro -- Army Navy Drive – Shirlington (Goes to Pentagon City on weekends)
Service Hours: M-F: 5:50 am – 11:41 pm; Sat: 7:00 am – 11:53 pm; Sun: 7:18 am – 7:11 pm
During the week, ART 87 connects Shirlington to the Pentagon Metro. On Saturday and Sunday, the route goes to the Pentagon City Metro where you can easily get to the Fashion Center at Pentagon City and Pentagon Row for shopping and restaurants. In the mood for a play? Visit the Signature Theater in Shirlington and have dinner beforehand at one of the many restaurants there.
s
---
About User Comments
The User Comments form is a way to share your thoughts with other visitors to this page. If you have a comment or question for Arlington Transit staff, please contact Arlington Transit.
Comments posted here will be published on this page after approval. A valid email address is required to post a comment. Your email address will not be displayed, or used for any purpose except to contact you about your comment or question.