New ART 72 Route will Connect North Arlington to Ballston and Shirlington
November 27, 2018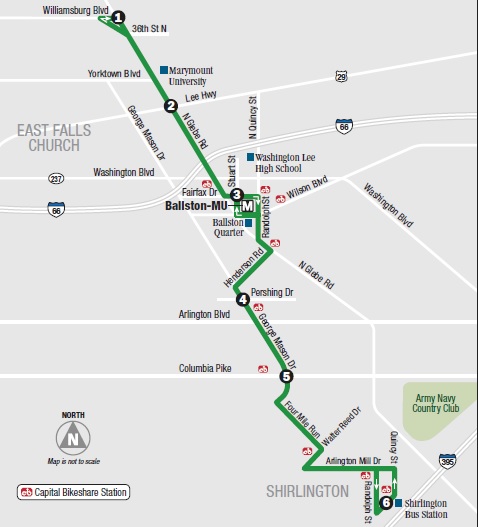 Starting Monday, December 17, the new ART 72 route will provide weekday service that will connect North Arlington to Ballston and Shirlington via George Mason Drive. This new route, along with Metrobus 22 A/C, will bring more frequent service between Ballston and Shirlington. Service will operate every 20 minutes during rush hours and every 30 minutes the rest of the day.
New buses will be used on the route and will provide a comfortable ride for passengers. Some of the features of the new buses include vinyl seating, wider aisles and better climate control.
Hop aboard ART 72 to travel to work, restaurants, shops and more!
ART 72 Service Hours:
Weekday service: 5:58 am to 8:37 pm
Peak frequency: every 20 minutes
Off-peak frequency: every 30 minutes.
View the ART 72 schedule (PDF)
New ART 72 Bus Stop locations
As part of the ART 72 route, eight new bus stops will be installed along North Glebe Road between 36th Street North and 25th Street North. The locations of the new bus stops are:
Northbound Bus Stops:
N Glebe Road & North of Old Dominion Drive
N Glebe Road & 32nd Street N
N Glebe Road & N Albermarle Street
N Glebe Road & N Abingdon Street
Southbound Bus Stops:
N Glebe Road & 35th Road N
N Glebe Road & 33rd Road N
N Glebe Road & Rock Spring Road
N Glebe Road & Old Dominion Drive
---
About User Comments
The User Comments form is a way to share your thoughts with other visitors to this page. If you have a comment or question for Arlington Transit staff, please contact Arlington Transit.
Comments posted here will be published on this page after approval. A valid email address is required to post a comment. Your email address will not be displayed, or used for any purpose except to contact you about your comment or question.