ART 53 Ballston - Old Glebe - East Falls Church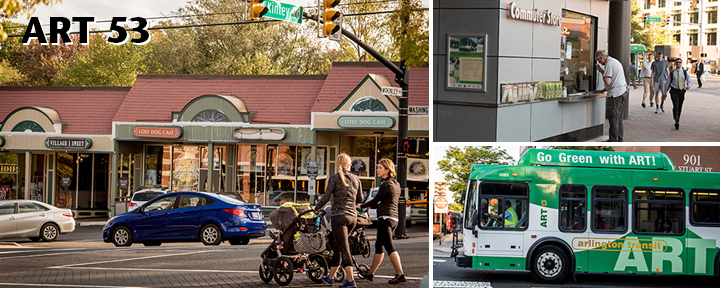 ART 53 operates between the East Falls Church and Ballston Metro stations during rush hours on Monday through Friday from 6:00 am – 9:14 am and 2:35 pm – 7:39 pm.

Ballston Metro Bus Stop
Due to construction at the Ballston Metro station, the ART 53 and 62 bus stop will be located near the Metro elevator on Fairfax Drive before N Stuart Street (view a map).
Printer-Friendly PDF
ART 53 route map and schedule (PDF, 323 KB, Adobe Reader required)
Holiday Schedule
ART 53 does not operate on the following holidays: New Year's Day, Martin Luther King Jr. Day, Presidents Day, Memorial Day, Independence Day, Labor Day, Columbus Day, Veterans Day, Thanksgiving Day, day after Thanksgiving, and Christmas Day.
ART 53


Line