ART 62 Court House Metro - Lorcom Lane - Ballston Metro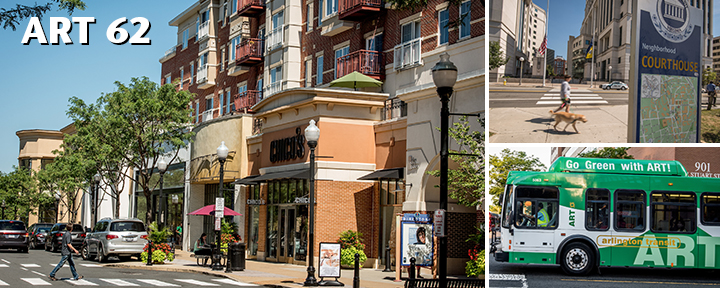 ART 62 provides service between North Arlington and the Ballston and Court House Metro stations with two buses operating every 30 minutes during weekday rush hours. Along N. Utah Street the route is designated a "flag stop zone." Instead of having set bus stops, the bus may be flagged down anywhere along that part of the route.
Ballston Metro Bus Stop
Due to construction at the Ballston Metro station, the ART 53 and 62 bus stop will be located near the Metro elevator on Fairfax Drive before N Stuart Street (see map).
Printer-Friendly PDF
ART 62 route and schedule (PDF, 312 KB, Adobe Reader required)
Holiday Schedule
ART 62 does not operate on the following holidays: New Year's Day, Martin Luther King Jr. Day, Presidents Day, Memorial Day, Independence Day, Labor Day, Indigenous Peoples' Day, Veterans Day, Thanksgiving Day, Day after Thanksgiving, and Christmas Day.
ART 62


Line